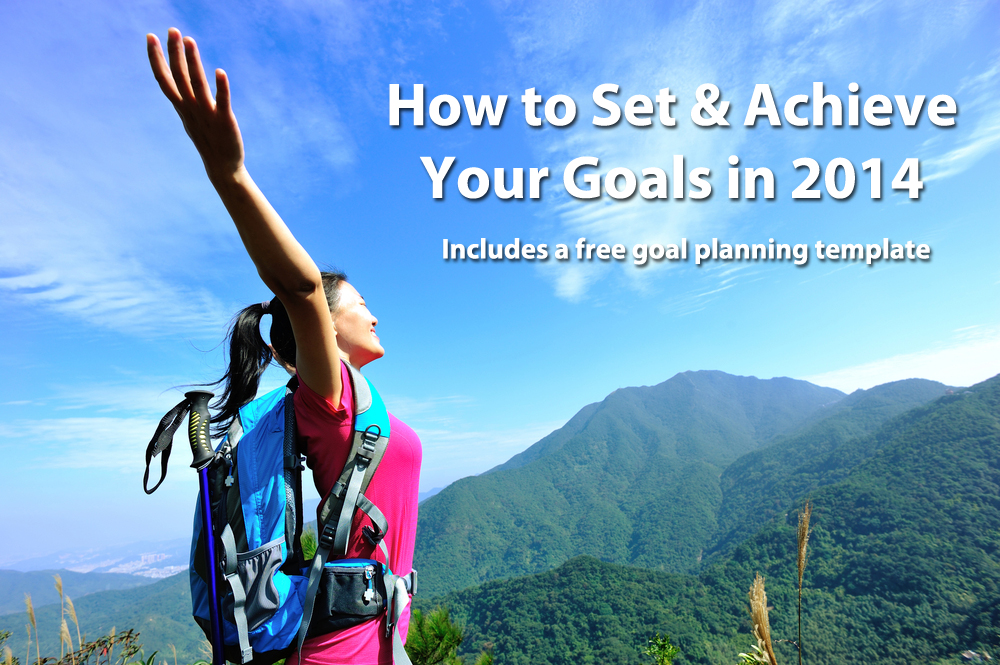 It's a new year which means new goals are being planned and executed everywhere, at work, home, in the community and in your own relationships. One of the biggest challenges facing people each year is how to actually follow through with your goals. There are many reasons why you may or may not achieve a goal. This post aims to help you discover what personal goals you should set in 2014 and how to be successful in achieving them.
How to Determine Goals that Work for You
When determining goals for yourself in the new year, you should allot enough planning time to be thoughtful about what is important to you. Goals should not be made to appease someone else. On the contrary, you should set goals that matter to you and you alone. For example, women often feel pressured into losing weight in an effort to keep a spouse or partner, or someone else happy. Why is this a problem? When you make a goal motivation is key to sticking with it. If you're not accomplishing the goal for yourself the chances of failure rise. You should ask yourself why you want to lose weight? What you may find is that you don't really want to or even need to. You simply feel pressured to lose weight. It is extremely important that the goals you do make come from you and not from others.
A few questions you can ask yourself are:
• What do you really want to accomplish this year?
• Why is this something you want to accomplish?
• How does this resolution benefit you mentally, spiritually, and physically?
• Do you want to accomplish this for you or for someone else?
How to Stick With & Accomplish Your Goals in 2014
Define SMART Goals: The term "SMART Goals" isn't new. It is an acronym that stands for Specific, Measurable, Attainable, Relevant, and Timely. Creating goals with this concept in mind is crucial to your success. For example, a goal of "I want to lose weight" doesn't necessarily help you. However if you created a goal that said "I want to lose 2 lbs per week for the next 3 months so that I can fit into my bathing suit by spring break" you are more likely to track and achieve that goal.
Commit to Behavioral Changes: You've had your habits in place for a long time. It's tough to change behavior overnight. It may take you a couple of tries but if you're committed to changing you can definitely do it. Start by setting reminders in your calendar or to-do list apps. Set alarms if necessary. You can also find a friend that can help push you in the right direction to change your behavior. You may experience a few failures, but don't worry! It's normal and you'll find success on the other side.
Reward Yourself: When you commit to a goal and behavioral changes, you should reward the little successes you have along the way. Again, having a friend that recognizes your changes will be helpful too. Tell the people you are close to the goals you are trying to achieve and allow them to reward your success too.
Don't Be Discouraged by Failures: If your goal is to lose 2 pounds per week and you only lose one or none due to an unexpected event, don't quit. Remember that you are human and pitfalls happen from time to time. Remind yourself that you do have a plan in place to achieve what you have set out to do. Learn from what you did incorrectly and then readjust your action items and goals accordingly.
Start Planning Your Year Now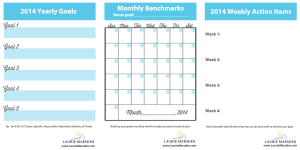 To help you get on track in 2014, download the free goal planning sheet by filling out the form below. This template is free and printable. It will help you break down your year goals in to monthly benchmarks and weekly action items. Once you have filled out the form, you will be redirected to the template.
If you have any questions about goal planning feel free to use the Ask Laurie tool. Laurie Marsden will respond personally to your inquiries. Additionally, you can sign up for the 8 Steps to Becoming You Program to set goals and achieve the life you want in 2014!